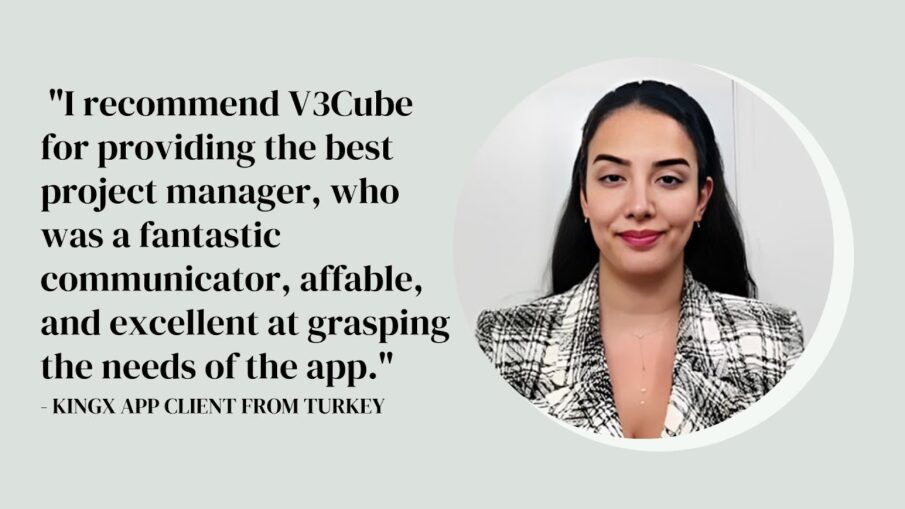 The KingX Gojek Clone App Launch for Our Turkish Client Gets Excellent Reviews
V3Cube's KingX Gojek Clone App offers 101+ services along with New Features, Components, and improved Functionalities that can put you in the SpotLight immediately" – a client reviews from our Turkish Client.
The team at V3Cube continues to invest in improving its On-demand Multi-services App to reap benefits with quicker launch times thanks to the solid infrastructure that has so far generated a wide range of On-Demand Apps — perhaps 1200+ and still counting.
"Five-star ratings have been given to the KingX App; to view a video testimonial, click here."
Turkish Client Talks About Leveraging The Power Of KingX App
The Turkish Client purchased our star performer "KingX App" and gave us a fantastic review that may be seen in the video testimonial.
The Client raves about his interactions with our Development Team and commends our Project Manager and the team for their work. In addition, the film makes mention of complementing the app's most recent features, prompt completion of tasks, and professionalism in work.
The video testimonial from one of our clients made it clear that our project managers and engineers understood the demands and goals for developing a KingX app. This demonstrated how we were able to deliver Gojek Clone honed in Turkish Languages and Currencies along with other Customization which was Beyond Expectations.
The proud Turkish Owner of "Gojek Clone App" is pleased with the outcomes greatly. Astounded by the team's dedication to producing the on-demand multi-service software that satisfied all the business requirements.
Our client was amazed at the team's commitment to their work, passion for what they do, and demonstration of unmatched customer service and sensitivity to the unique requirements of the company. The Gojek Clone App development team significantly surpassed the expectations of our client on every level. The result is a gorgeous on-demand multi-service app that perfectly captures the kind of operation the customer desired. 
The fact that our Gojek clone software was developed using the most recent app technologies eliminates the need for additional fees if the app needs to scale or expand, which was a key selling factor for our Turkish nationals. As the software can manage it without issue, there is no need to worry. It has 101+ On-Demand Services that are difficult to find in any other Super App, including On-Demand Medical Services, Online Video Consultations, Service Bids, and other innovative features and elements that helped our Turkish clients stand out from the crowd.
We are the company where the search for clone app creation ends and professionalism begins, according to our Turkish Client who is adamant about this. Eager to collaborate with us on future projects and keen to spread the word in the Turkish business community.
V3Cube's KingX Gojek Clone App offers 101+ services along with New Features, Components, and improved Functionalities that can put you in the SpotLight immediately" – a client reviews from our Turkish Client. The team at V3Cube continues to invest in improving its On-demand Multi-services App to reap benefits with quicker launch times thanks to the…
V3Cube's KingX Gojek Clone App offers 101+ services along with New Features, Components, and improved Functionalities that can put you in the SpotLight immediately" – a client reviews from our Turkish Client. The team at V3Cube continues to invest in improving its On-demand Multi-services App to reap benefits with quicker launch times thanks to the…