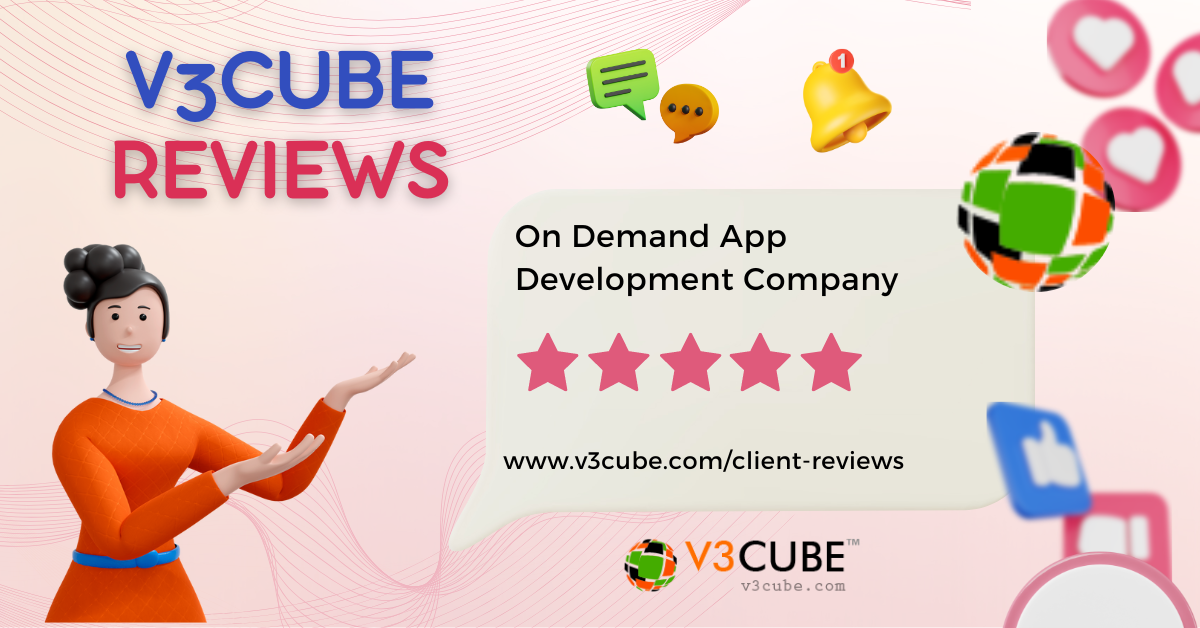 Read Customer Reviews of V3Cube
About 92% of the Clients read reviews before connecting with a company. About 93% of the customers will read reviews to determine the quality of the apps of the company they have shortlisted. This is the power of Customer Reviews.
Do you read Customer Reviews before purchasing an app from a company? It's an obvious question, and a majority of the client buyers will agree on doing a customer review check before connecting for their app requirement.
Clone App Development Companies presently are trending for all good reasons. Developing On-Demand Clone Apps for a wide range of business segments. V3Cube is a leading name when it comes to Building Clone Apps of varying services. The company has become a "Brand Name" for offering a Customized Clone App suiting the requirements of clients' business requirements and budget.
The USP of V3Cube – Why Global Entrepreneurs Prefer Us
Because we are the pros when it comes to developing On-Demand Multiservices Apps
They prefer us for developing Clone App as developing an app right from scratch will cost their time and money
We offer top-notch clone app development solutions
Our On-Demand Apps are customizable and offered in multi-language and currency of your choice
Cutting-edge features that helps to met business needs and the needs of end-users
Entrepreneurs are interested in venturing into On-Demand Market and we help them build a successful Clone App built on scalable advanced technologies
V3Cube Reviews are highly appreciated, talking about our end-to-end services from developing how our team helps in bringing ideas to life. The consistency and the quality of the On-Demand Multiservices App have been improving over the years by building highly scalable apps with New Advanced-level Features, Functionalities, UI/UX, and more.  The company has successfully managed to give their Global Clients the utmost satisfaction with their app developing skills.
V3Cube Reviews are appreciated for the app development services we have been provided to our global clients that include:
Gojek Clone App
Taxi Booking App like Uber
Instacart Clone
UberEats Clone On-Demand Delivery Solution
On-Demand Delivery Services
Medical All in One App
Uber for All Services
Providing a glimpse of V3Cube Reviews from our esteemed client:
Michael C. from Indonesia or whom we developed a white-labeled Cubejek Solution. He shares his experience of finding us and visiting us personally to see our development center. Super happy with our work, he commends us for the professionalism, transparency during the app development prices and encourages us to the other businesses to work with us.
Mr.Majed from Saudi Arabia surprised us by visiting our Development Centre and placing the order of our latest application. His highly appreciated review talks about his overall experience working with our organization. He was impressed with the detailed demo of the solution, motivating fellow entrepreneurs to work with us. 
Mr. Richard S. from the USA is our happy client explaining his experience working with us in his review.  V3Cube is proud to provide him with the successful On-demand Service Provider App. It was Richard's first time with us. He is amazed by how our Project manager and team dedicatedly worked. He gave us 5 stars ratings and wishes to work with us on his future projects.
We want our clients to become successful and that's what makes V3Cube stronger. We maintain strict confidentiality of our clients' products after white labeling as it is our NDA policy, some clients are Super Happy with our work and have provided us with some amazing reviews and approvals to publish them.
About 92% of the Clients read reviews before connecting with a company. About 93% of the customers will read reviews to determine the quality of the apps of the company they have shortlisted. This is the power of Customer Reviews. Do you read Customer Reviews before purchasing an app from a company? It's an obvious…
About 92% of the Clients read reviews before connecting with a company. About 93% of the customers will read reviews to determine the quality of the apps of the company they have shortlisted. This is the power of Customer Reviews. Do you read Customer Reviews before purchasing an app from a company? It's an obvious…